Hello guys,
Fido made an Insider and a forum post on ArcheAge-Online.de.
Looking at the changes, it is pretty worthwile translating it as the japanese went crazy with some changes!
If you want, take a look at Fido's Insider first:
www.youtube.com/watch?v=rFWS2d2LRVU
Here is the translations of the summary Fido posted:
Full "Pay to Play"
Boxed sales for 39 € and 1 month gametime.
Gametime around 20 US$/month
No Item Shop
Although it is unclear how UCC-Potions are made. (User created content)
Improved Client
"Unbelievable good FPS ingame"
"Performance strongly improved compared to KR"
"No desktop client; game starts via weblauncher"
Modified Trading
You don't get money from trading
Only delphi coins; but payment is the same as in korea.
Modified PvE
Mobs are really strong
Bossmobs are harder
Casting mobs (especially Elite) are really hard to kill
Really bad drop rates for Akhium
Comparison table 100 Lvl11 Horses in Lilyut Meadow with Lv13 Char:
Loot Korea --> Japan
Total 100 --> 100
Money 68 --> 87
Sm Potion 9 --> 4
Sm M. Potion 8 --> 4
Gear(all rarity) 5 --> 3
Blue Akhium pwd. 5 --> 2
Green Akhium pwd. 3 --> -
Red Akhium pwd. 2 --> -

(sorry I don't know how to make tables)
According to a german player it's getting a little better on higher lvls.
Currently theres no Akhium in the AH(normal for beta)
If theres any, it gets bought within seconds.
Modified PvP
War system just as in Korea
1 hour of war; 4 hours peacetime.
In Japan, there IS peacetime on Liberty Island - 1 hours peace/1 hour war preparation rotating.
Modified prices on Mirage Island
General stuff has the same price, but more advanced things are more expensive:
Blueprint Price Korea --> Price Japan
Underwater farm 14 coins --> 30 coins
Tractor 10 coins --> 70 coins
Big house 500 coins --> 1000 coins
50 slot chest 30 coins --> 150 coins
Crafting station 20 coins --> 40 coins
Battleship 100 coins --> 200 coins
Tradeship 50 coins --> 200 coins
Guild mansion 1000 coins --> 2000 coins
Modified prices at NPCs
Same as above
Good Price Korea --> Price Japan
Rank 2 Catalyst 12S --> 24S
Rank 3 Catalyst 24S --> 72S
Ink 10 S --> 1G
Modified prices for character "services"
Resetting skilltree
Korea: 10S per skill in tree
Japan: 50S per skill in tree
Example:
Level 50 player with 15 skills in a tree
Price Korea: 1 Gold 50 Silver
Price Japan: 7 Gold 50 Silver
Changing skill tree
- tba -
NPC Merchants
No portal stones
No animal food(breeding)
No animal healing potion(for sick cows)
Farmers workbench available
Materials for portal stones
Stone (3 in KR / 5 in JP)
Powder (1 in KR / 3 in JP)
Without farmers workbench, no animal food.
So breeding is impossible in the beginning.
Lore
Partially completely new cutscenes
Quests adjusted to japan
Cutscenes full japanese synchro
Labour Points
No difference to Home Users in KR
5 LP every 5 minutes
At start max 1000 LP; 10 more max LP per 100 LP used
Status Quo
"Hard to tell"
Closed beta; level cap Lv35
Hell Swamp, Long Sand, Lokas Checkers, Steppe Belt, RoH and Hasla not walkeable as well as northern continent
Everything is there on the map though(will be opened for OBT probably)
Northern sea without islands on map
You can already lock your vehicles
Fishing, inscription crafting and composing is not implemented
No yata breeding
Partially changes to the game that were only recently introduced in KR; for example UI changes to see available crafting receipes.
This list is going to be updated the more Fido gets to know about ArcheAge in Japan.
IMPORTANT!
Japan is in Closed Beta, there can be a lot of changes in the next couple of days.
The Open Beta starts next weekend and what will be in there will be the status of Release.
Source:
http://archeage-onli...eues-aus-Japan-(Closed-Beta-Report)&p=38658&viewfull=1#post38658
EDIT:
News about Japan release by Fido
ArcheAge is going to be released on Thursday, 2013-07-11 at 12:00 JPT(12 p.m. ;noon)
GameOn already noted that Pre-Order buyers can create their characters beforehand, starting 2013-07-05 17:00 JPT (5 p.m.) and ending 2013-07-08 17:00 JPT.
To play ArcheAge JP you will need a PMANG-ID. To distribute the game, GameOn relies on the stable system from Neowiz Games.

Players are further adviced not to delete their CBT clients because it is no problem to patch them up to the OBT client [which will be the release version].

There was a livestream yesterday, 2013-07-02 about the japanese release. It will work as an info dump about the following topics:
1) Basics of the game
2) Housing Areas - Everything about crating and farming
3) The challenge - Everything about instances
4) The Future - Updates after release
The stream can be seen here:
http://www.ustream.t...nnel/gameon-tv1
[Obviusly japanese so you don't understand much..]

As a little addition, there will be an ArcheAge guide in retail stores to help newcomers get a better start into the game. The book is full of illustrations and screenshots.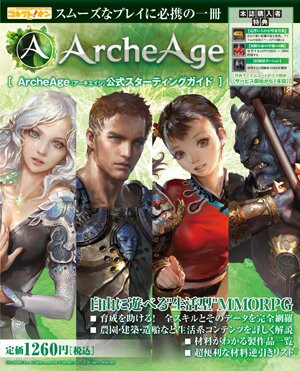 Content of the book:
Class System
Basics of PvE
PvP-System
Farming and Housing
All receipes at release state and material guide
Buying the book gives you some ingame items:
[Small Chest] - 10 slots chest(housing item)
[10x excellent potion] - Heals 2600 - 2800 HP
[XP Potion] - Gives 10k XP
Cost: 1260 Yen
ISBN: 978-4-04-729054-9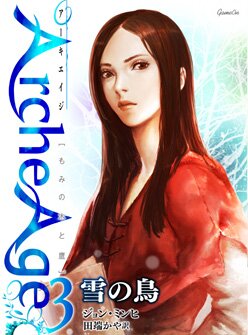 Together with ArcheAge JP there will also be the third book of the ArcheAge Saga by Jeon-Min Hee.
The title of the book is "The Snow Birds" and is about Kyprosas in the northern kingdom Meir.
So far the japanese version is only availalbe as an e-book for 350 Yen (e.g. Amazon Kindle Store).
With the release of ArcheAge in Japan we now have 2 regional releases for the game. Let's hope that Trion Worlds gives more information about ArcheAge in EU/NA soon. Let's wish GameOn and Neowiz Games a big success with their new title!