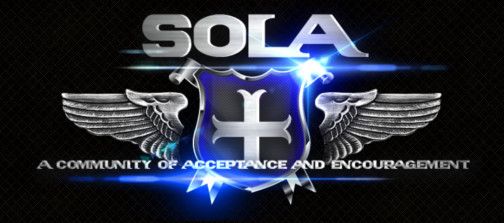 SOLA is a group of gamers who seek to develop a community of Acceptance and Encouragement!
We are very excited about ArcheAge and look forward to building a strong and positive presence in Erenor as we head towards release.
Our Goal is to be known as friendly and helpful members of all the games we play, including Archeage. We will strive to provide clean chat channels, forums and VoIP for our members and their families.
SOLA is a Christian led guild that is active in several current MMO's. We regularly add new chapters when our community finds interest in new upcoming games. We are a growing community of caring people, with a desire to enjoy the games we are playing and help others to do the same.
While SOLA was founded by Christians, it is NOT Required for Membership. All we expect of our membership is to be respectful to others and uphold the honor of the Guild.
We have gamers of every type, young and old, hardcore and casual, PvEers, PvPers and RPers, Explorers and Crafters. We will work to be active in all areas of ArcheAge and we will strive to accomplish everything ArcheAge has to offer. We are most excited about the way ArcheAge lends itself to cooperative community play and we fully intend to support each other and the wider game community. Our initial game focus will be towards exploration, commerce and anti-piracy.
The only requirement for membership is to read and agree to our code of conduct. You will need to fill out our application with a bit of information about yourself. If you have any questions, comments or ever want to meet us, just come on over to
http://www.solaguild.com/
.
We have forums and an active Mumble voice chat system. We have members on nightly in various games, many of whom will be playing ArcheAge with us come Beta and Release.
Come join us in ArcheAge as we establish ourselves in Nuia and then reach out toward Auroria and beyond.
God Bless.