Source: ArcheAge-Online.de - Das Crafting

Professions Basics
The profession system in ArcheAge looks complex, currently there are 21 professions/jobs, which we can split into different categories like: gathering, crafting and other.


Labor Points
Each character has a certain number of "labor power points" or just "labor" in short, that are similar to an energy bar (located on top of the experience bar).





By collecting, mining, manufacturing and processing materials these points are being used up until they are exhausted, and when they reach 0 points, your character will be unable to perform any of the activities listed before.

Labor points regenerate automatically. Five labor are restored every 5 minutes. This results in a maximum of 1440 labor per day. There are also object which can boost up labor points a bit, such as the bad bed (from season Update 1). Maximum a player can currently collect 5000 labor per account, it can be divided among the characters there by free choice.

The maximum amount of labor is determined by the level of the player's character and his accumulated experience in all professions.

Professions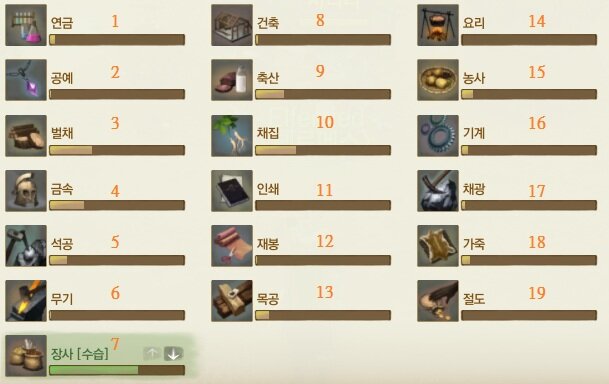 1. Alchemy
Crafting of potions and flasks, catalyst for the construction, archium, dye for custom capes and sails and many other objects.

2. Handicraft
Crafting accessories (rings, earrings, necklace), baits for fishing and other magical artifacts.

3. Logging
Gathering of wood, special trees, branches and tree fruits.

4. Metal
Crafting plate armor, processing of various raw ores into bars, and others.

5. Masonry
Processing of raw stones, crafting of portal stones, preparing explosives.

6. Weaponcraft
Crafting of many different weapons and shields, cannon balls and other explosive charges.

7. Commerce
Crafting of trade packs (commercial boxes), auction house trading.

8. Construction
Building of houses and castles.

9. Husbandry
Livestock related: butchering, milking, plucking, mount breeding.

10. Gathering
Gathering herbs, picking fruits.

11. Printing
Decrypting/replicating of plans, decipherer of ancient documents, master of languages from all continents.

12. Tailoring
Crafting of cloth armor, processing of fabrics, wool and cotton.

13. Carpentry
Processing of wood, crafting of furniture, bows, staffs and fishing roods.

14. Cooking
Crafting of buff food and drinks.

15. Farming
Growing of crops, watering them, processing of cow manure to bio-fuel.

16. Machinery
Crafting of siege weapons, agricultural machines, boats, gliders.

17. Mining
Mining ore, processing of archium.

18. Leatherwork
Crafting of leather armor, processing of rawhide, designing bags from divers,

19. Larceny
Purchasing of foreign goods, harvesting "other" plants, degrading "other" trees.

20. Fishing
Catching fish.

21. Composing
Composing custom music (MIDI type).


Profession Levels
Every profession has it's level, which is defined in points (0-50.000), it can earn points and level up as you are using activities which describes a profession, all of these activities require labor points.

Profession levels by points:
0-10.000 -> Novice
10.000-20.000 -> Apprentice
20.000-30.000 -> Journeyman?
30.000-40.000 -> Expert
40.000-50.000 -> Master


Leveling up process for professions:
In order to get a profession to the next level, first you need to reach 10k points with the given profession, then two arrows will appear next to its name (look at the picture above, arrows down/up at nb 7.), clicking on the up arrow you take the profession to the next level, this applies up until the last level "Expert".

From the total of 21 professions, you can level up 5 to Apprentice level, from which 4 can be Journeyman level, from which 3 can be Expert level, and from which you can level up 2 to be Master level, per character.

Why do i need to level up professions?
When you have a profession on higher level, the labor consumption is less for the activities within that profession. In some cases new recipes will open up, to collect/mine certain resources a higher level of profession is needed, to craft certain things a higher level of profession is needed, to use certain items a higher level is needed as well. Also in case of gathering you have better chance of getting rare resources, in case of crafting you have a better chance to craft more rarer items. And there are some other perks as well.